Specialization Course in International Criminal Law for Young Penalists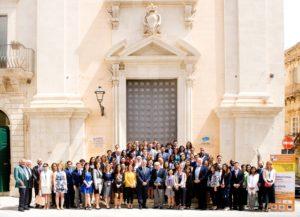 We are glad to announce the 17th Specialization Course in International Criminal Law for Young Penalists on "The International Criminal Court at Fifteen" that the Siracusa International Institute for Criminal Justice and Human Rights - the new public name adopted by the International Institute of Higher Studies in Criminal Sciences (ISISC) – is organizing from May 21 to May 31, 2017 in Siracusa (Italy). The course is sponsored by the  International Association of Penal Law (AIDP), among others.
Professor William A. Schabas, Professor of International Law at Middlesex University, chairs and coordinates the course, assuring the highest quality of education administered by some of the most erudite academics and researchers in the field of international criminal law. This year's confirmed instructors include the Siracusa Institute's Honorary President, Professor M. Cherif Bassiouni, the judges of the International Criminal Court Christine Van den Wyngaert and Chile Eboe-Osuji, and the Associate Dean for International Programs and Strategic Initiatives & Emily and Ernest Woodruff Chair in International Law at University of Georgia School of Law, Professor Diane Marie Amann, amongst others.
The Siracusa Institute will select 60 participants who should have at a minimum a first degree in law, having graduated in the last eight years (between 2009 - 2017), and be 35 years of age or under. Furthermore, the Institute will offer 10 scholarships to applicants from Developing and Less Developed Countries. Applications should be submitted by March 20th, 2017.
All relevant information and the application form are available at www.siracusainstitute.org. You are kindly requested to fill out the application form directly on the webpage. Once you have submitted your application online, you will receive a confirmation.
Please do not hesitate to contact the Siracusa Institute for any questions or concerns you may have at icl-course@siracusainstitute.org.
We would appreciate if you would make this announcement available to those who might be interested in this Specialization Course.
Thank you for your interest, and we look forward to receiving your applications.