First Specialization Course for Junior Prosecutors (SCJP)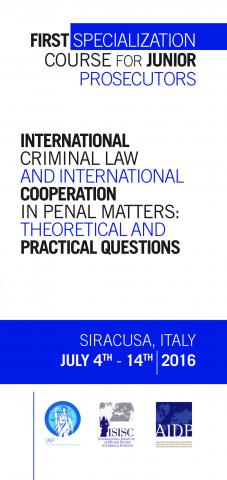 First Specialization Course for Junior Prosecutors (SCJP) on "International Criminal Law, International Cooperation in Penal Matters, Theoretical Tools and Practice"
The International Association of Prosecutors (IAP), the International Institute of Higher Studies in Criminal Sciences (ISISC) and the International Association of Penal Law (AIDP) are organizing the First Specialization Course for Junior Prosecutors (SCJP) on "International Criminal Law, International Cooperation in Penal Matters, Theoretical Tools and Practice" to take place from July 4th - 14th  2016, in Siracusa, Italy.
This is an exceptional event, organized by the three most prestigious international organizations in the area of international criminal law and practice.
Applications must be submitted by April 20th 2016.
Those interested in attending the course may find the relevant information by clicking here