Le prochain Conseil de direction se tiendra les 12 et 13 juin prochains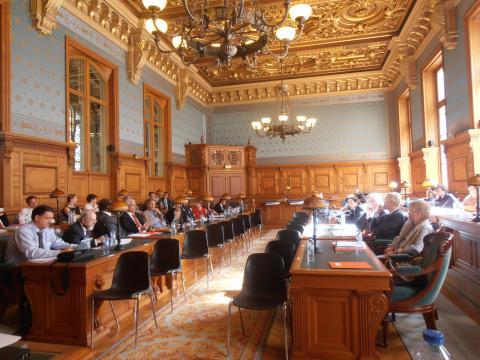 Like every year, the Board of Directors of the International Association of Penal will convene in June in Paris. The planned dates are Friday 12 June and Staurday 13 June 2015 at the Cour de Cassation.
The Board of Directors of the AIDP/IAPL, composed of a maximum of 57 members, is the Governing body of the Association. It includes, in addition to the Members of the Executive Committee, a number of senior officials elected by the General Assembly on the occasion of the its quinquiennial Congress. Presidents or delegates of the National Groups of the AIDP/IAPL are also invited to particpate with consultative vote. This meeting provides them with an opportunity to present the activities of the National Group during the past year.
On the occasion of the Annual Meeting of the Board of Directors, meetings of the Scientific Committee, of the Editorial Board and of the Executive Committee are also held in the premises of the Association in Paris. The respective roles and functions of these various organs are described in the By-Laws of the Association.
Presidents or representatives of the National Groups who would like to receive an invitation to participate in the meetings of the Board of Directors should request the AIDP Secretary General, Carlos Japiassù, or send an email to the Secretariat of the AIDP.
The Executive Committee looks forward to welcome you in Paris.