The Austrian National Group celebrates its 45th anniversary in 2019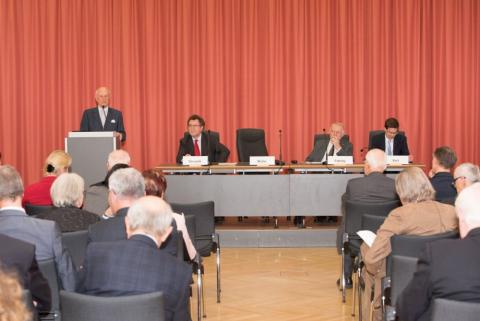 On this occasion, the Austrian National Group organized an academic ceremony, which took place at the Grand Ceremonial Hall of the Austrian Supreme Court in the Palace of Justice in Vienna in the presence of the president of the AIDP Prof. Dr. John Vervaele. The president of the Austrian National Group, Prof. Dr. Otto F. Müller, welcomed many guests in his opening speech, among them the highest-ranking representatives of the Austrian judiciary and universities.
The academic part of the ceremony consisted of three lectures, which dealt with current issues of Austrian and European criminal law. Prof. Dr. John Vervaele spoke about the lawful and fair use of evidence from a European human rights perspective. The Vice-President of the Austrian National Group, Prof. Dr. Ernst Eugen Fabrizy, discussed state protection by the police in the run-up to crime. The lecture held by Univ.-Prof. Dr. Robert Kert covered the issue of protection of fundamental rights and mutual recognition of criminal law decisions in an area of freedom, security and justice. Next to the lectures, Dr. Wolfgang Guhswald performed pieces of Franz Schubert, Ludwig van Beethoven and a composition of his own on the piano.
The academic ceremony was followed by a festive dinner at the roof top restaurant of the Palace of Justice.
A documentation of this academic ceremony will be published within the next weeks and will be available both in print and as a download from the website of the Austrian National Group (www.aidp-austria.at).