In Memoriam Professor Dr. Otto Triffterer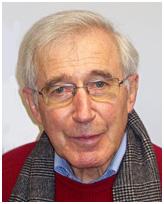 AIDP  is deeply saddened to announce that Professor Dr. Otto Triffterer passed away on 1 June 2015.
Professor Triffterer was very much involved in the AIDP activities, especially  related to the area of international crimes. He was also one of the driving forces in setting up the Young Penalist branch. 
He will always be fondly remembered. Our condolences go to his family, especially his wife Maria and his two sons, Tobias and Daniel.
Prof. dr. John A.E. Vervaele
President of the AIDP
*****
Professor Triffterer's distinguished academic career was deeply rooted in the field of international criminal law. Following studies at the University of Freiburg and at Harvard University, he defended his doctoral thesis on the doctrinal basis of substantive international criminal law since Nuremberg. At that time he also worked as research fellow for English and American criminal law, international law and human rights at the Max-Planck-Institute for Foreign and International Criminal Law, Freiburg. He later held faculty positions at the Universities of Freiburg, Kiel, Bielefeld, and Giessen, and was appointed full Professor of Austrian and International Criminal Law and Procedure at the University of Salzburg in 1978, where he also served as Dean of the Law Faculty (1993-1999).
In his scholarly publications, Professor Triffterer never lost sight of developments at the international level. But he also contributed i.a. to the drafting of the 1971 Wingspread Draft of a Statute for an International Criminal Court, the People's Republic of Bangladesh's 'War Crimes Tribunal Order 1972', the 1995/96 Siracusa Drafts for an International Criminal Court, and in 1998 he attended the Rome Conference for the Establishment of an International Criminal Court as an individual expert.
After his official retirement in 1999, Professor Triffterer dedicated his full academic attention to international criminal law, a field he has profoundly shaped, developed and clarified. Two projects proofed particularly significant. His Commentary on the Rome Statute of the International Criminal Court and the Salzburg Law School on International Criminal Law, Humanitarian Law and Human Rights Law.
Professor Triffterer established the Salzburg Law School on International Criminal Law, Humanitarian Law and Human Rights Law to promote understanding and encourage critical discourse on international criminal law and its enforcement mechanisms. Hundreds of participants from all around the world got to know him as an outstanding scholar and charismatic teacher. He was doctrinally sound and persuasive in his arguments; a true visionary and architect of international criminal law with the ability to encourage and motivate.
Professor Triffterer's considerate and influential voice will be missed greatly. But his legacy will be carried on through his teaching and academic writing. Those who had the privilege of working closely with him mourn an exceptional person with high professional and moral standards, strength of character, and a kind humor.
Professor Astrid Reisinger Coracini